Infectious Disease Management
Every animal producer needs a disease monitoring and management program. These programs should be monitored with the practicing vet and might consider:
Which diseases are present,
Which ones can be minimized or prevented,
How infections ones are identified and treated,
What safeguards are in place to minimize disease spread
Minimize the likelihood of public health problems.
Health problems and their prevention should be central to many of the daily management decisions. Losses from ongoing infectious problems tend to be insidious. These losses can include treatment costs, reduced productivity and animal death. Even with the best possible management, disease is a fact of life. We can manage animals as a herd, but disease ultimately shows in individual animals. Monitoring disease with a prompt and accurate diagnosis provides an important tool on disease management. Disease is a direct function of exposure to causative agents in quantity to overpower defense mechanisms. It is easier and more cost effective to try and prevent disease situations than to cure them once they have become established. Decreasing exposure to disease is a primary method of decreasing disease. Health costs rank second to feed costs in most facilities. Common diseases that can also limit future productivity include:
Salmonella*
E.coli scours
Septicemia
Bloat
Pneumonia
Ringworm
Coccidiosis
Lice
*Disease can also infect humans.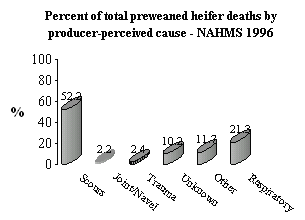 Newborn/Young Animals are the must vulnerable animals on the farm to infection and disease. Some of these disease conditions can be transmitted through feeding practices.