Blended by and strengthened by passion. Family is not always defined by a last name or genetics.
Family is the people in our lives we have a connection with. They are the people we see every day or sometimes only once in a lifetime. Family is a sense of connection. A connection so powerful that we can't explain it and we can't deny it. Family is unconventional and breaks tradition. Family is what you make it.
Over the last year or so, Jeanne Wormuth's family has grown in a way she never dreamed, but together with her husband AJ they have opened their hearts and lives to a whole new kind of family. No, not a new baby. Jeanne and AJ have two full grown children of their own, Zach and Kayla. Their family has expanded through a farm partnership with John and Nancy Hourigan. The timing was right. Jeanne and AJ were looking for their next adventure and owners John and Nancy were starting to plan their retirement.
It's not your typical farm succession of passing along the farm to the next generation. But it's all falling into place.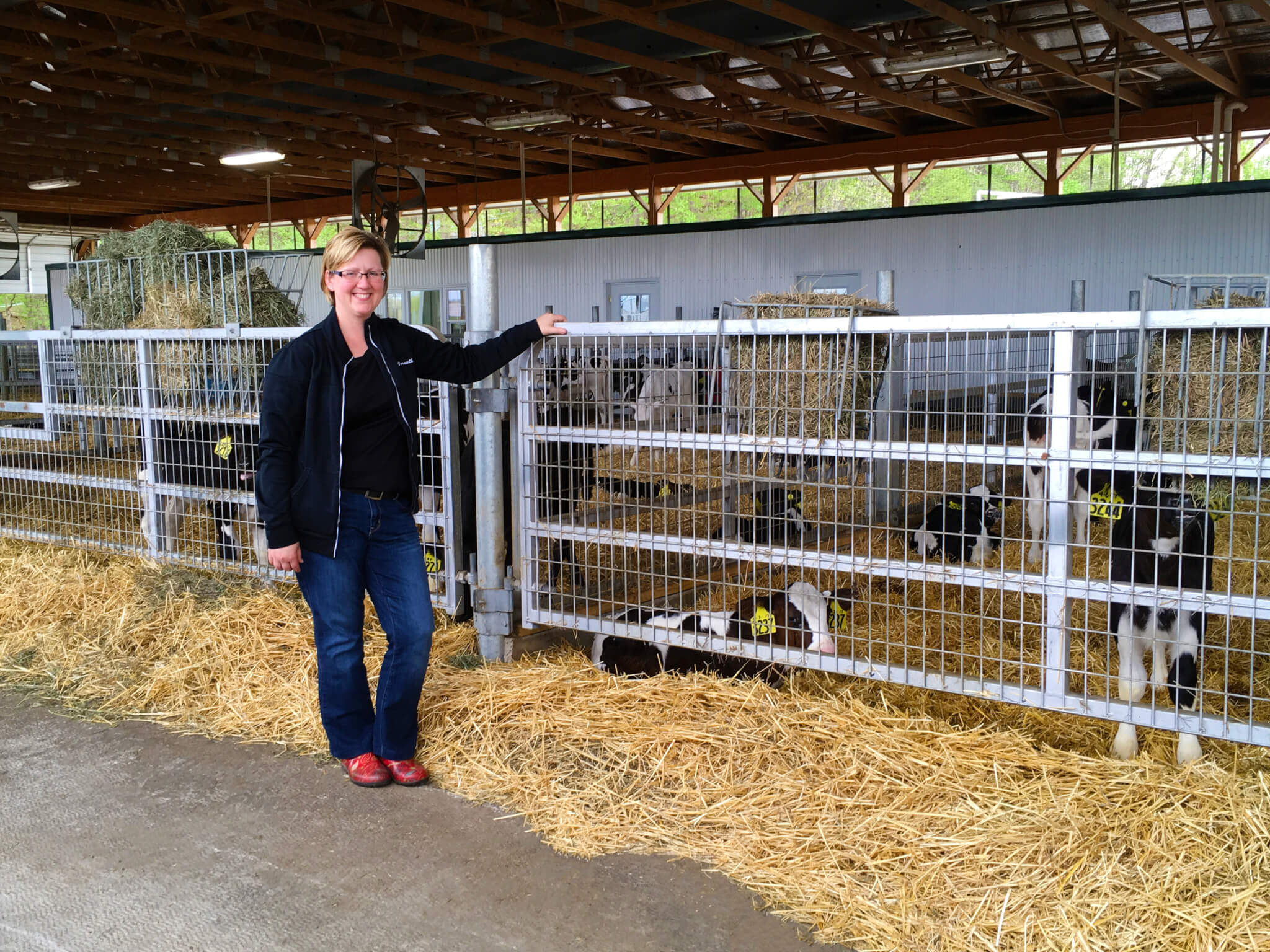 "It's funny how you look back at your life journey and your younger self doesn't realize that all of your experiences add up and develop layers shaping your personality and skills," Jeanne admits.
Looking back Jeanne knew that she always loved cows. And it's not surprising that she now calls the calf barn 'her place' at Hourigan's Dairy Farm. A Cornell grad, she remembers her eyes being opened in the classic 'farm kid comes to the city' kind of way. She realized that agriculture was booming with many different career paths and the opportunities were endless.
"Growing up on a small 50 cow dairy, I hated it. I never enjoyed throwing hay bales. I wasn't going to farm." Fate has a funny way of bringing us full circle sometimes.
Before moving to Hourigan's, Jeanne and AJ's journey had a couple career stops. Their most recent was working together undertaking a new concept of raising heifers for other farmers. Going from hand feeding half a dozen calves as a kid to raising 4,000 heifers, the pressure was on.
"Because of my communication skills, I transitioned to the face of the company, dealing with farmers face to face who wanted us to raise their calves. AJ was always there in the background working". For 18 years of their journey this was their life, their family. They built a business, made friends and raised their children in Elba, NY.
The time came for a change. Through mutual business acquaintance they met John and Nancy. After many months of discussion, it came time to make the move to Elbridge, NY, "I just had an eerie ease about moving to Hourigan's Dairy. I didn't stress about it the same way my 28-year-old self stressed about stuff."
The unconventional farm succession plan was born. "We didn't know anything about each other. We just kind of leaped and said let's do it." And a special connection sprouted and blossomed from there.
"It really helps that we have very similar values and kind of think the same way. You have to be in tune with each other and I feel like we have that," Jeanne admits it's very rare to come by.
The couple is not just filling a position. "We're really being groomed to take over and fill John and Nancy's position. We've had to come in softly and smoothly. There is definitely an art to that," Jeanne says.
Change is not always bad. It's been a big risk on both ends transitioning the farm over. "The process has been encouraging so far." In full transparency Jeanne admits, "sometimes we are ready to go faster, but we've got to slow down and move at the same speed with John and Nancy."
The farm is gorgeous. And a testament to the management and standards that John and Nancy began the farm with. What started out with 8 dairy cows, now has grown to milking 1,300.
Jeanne self-proclaims "I'm a pretty simple person. At the end of the day I like to see that the job gets done. I don't love travelling. Some people are travelers, but not me." The farm is her getaway. With her favorite people, her family right by her side.
The future will hold challenges and markets will be what they are. With their bond cemented in the farm Jeanne and AJ look forward to farming smarter and not being afraid to try things a little differently.
For now, they are soaking up everything they possibly can from John and Nancy. "They are incredible people and we are incredibly fortunate to just listen. They have so much experience. And you think you have it. But I love to just listen and pick up the little things."
While they are not blood relatives, "we constantly get asked if we are their kids or I'm a niece," Jeanne laughs. It doesn't help that AJ is a tall red head and the Hourigan family heritage is Irish.
In every way Jeanne is a go getter. A female role model to young women who she encourages to know your value and be confident about it. Her bright character is infectious and uplifting. "I think I'm odd, because I'm naturally a happy person. I don't know why or what does it. I choose to be happy."
Her positivity helped her overcome cancer and pushes her every day, "right now, I'm not going to stop. You think you're invincible and can go on and on. It never occurs to you. Forces you to think about your happiness and what you want to do in life."
Regardless of blood relatives or not, Jeanne and AJ consider John and Nancy family. A family they are so grateful to have found. In a world where connecting with another person is rare, talk about hitting the jackpot. They might not have started out together, but cannot imagine a path forward without each other.