Premium bovine dried colostrum
Effective on-farm colostrum management practices will get your calves off to the right start in life. And help make good calves great cows. Getting enough quality colostrum might not always be as easy as milking that fresh cow. Colostrum quality varies from cow to cow. Using a refractometer to test colostrum on-farm is a useful tool to know what IgG levels you're feeding newborn calves. After all, you can't manage what you don't measure.
When colostrum quality is not optimal, quantity is lacking, or calves are born weak or under weight, give them a boost with Calf's Choice Total®.
Our premium dried bovine colostrum supplement provides easy effective on-farm neonatal nutrition. Calf's Choice Total® provides 100 IgG's to calves to protect them from infectious diseases and prevents Failure of Passive Transfer (FPT).
Research has shown that 100 IgG protects calves from most common infectious diseases and increases health and productivity.
This product is a spray-dried bovine colostrum that's been heat treated for safety and is free of pathogenic bacteria. When fed as directed, Calf's Choice Total® gives calves a minimum of +10 grams of immunoglobulins (IgG's) per
litre of serum (IgG/L). Research has shown that this level protects calves from most common infectious diseases.
Product highlights and recommendations
Recommended feeding schedule is one dose within 6 hours of birth
Prevents Failure of Passive Transfer
Offers protection from infectious diseases
Contains antibodies to E. coli, bovine rotavirus, bovine coronavirus, BVDV, BRSV, Pl-3V and BHV-1
Free of pathogenic bacteria such as E. coli, M. paratuberculosis and salmonella species
Mixing Instructions
One bag (or 470g of powder) should be mixed with 1 litre (~4 cups) of warm (43 to 49˚C) water with a whisk, until the powder is dissolved. Note, the mixed solution will be thick, just as maternal colostrum tends to have a thicker consistency.
Product size options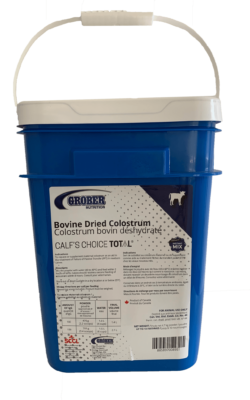 Size – 4.7kg of powder

Number of feedings

– up to 10
IgG's – +150 to 100 IgG's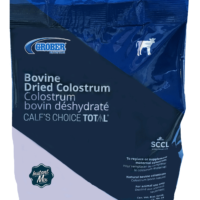 Size – 470 grams of powder

Number of feedings

– 1 bag = 1 dose
IgG's – 100 IgG's
What are IgG's?
Immunoglobulin are abbreviated as "Ig", with different types of immunoglobulins found in colostrum, however, IgG is the most plentiful. Immunoglobulins are a type of protein called antibodies, exerting different effects to ward off infection and pathogens.
How do I feed Calf's Choice Total®?
By Bottle: feed at ~7.5% body weight per meal, with the first meal occurring within two hours of birth, followed by a second meal, of the same volume, within the next 8 to 10 hours.
Esophageal tube feeder: feed no more than 10% body weight per meal, and only using a tube feeder if there is no suckle reflex. Follow up with a second meal within the next 8-10 hours, offering first with a bottle. Never tube feed less than 2 litres of colostrum replacer as passive transfer will not be obtained.
Supplementing maternal colostrum: for every desired increase in % Brix of maternal colostrum, add 15 grams of CCT. Best results will be seen with good quality (Brix >20%) and clean maternal colostrum. Supplement maternal colostrum during stressful conditions to the calf, such as dystocia and maternal heat stress during pregnancy (summer and early fall born calves).
Extended colostrum feeding: colostrum replacer may be mixed in equal parts with milk replacer or whole milk to provide transition milk replacement feedings.