Don't let intestinal challenges get you down.
Feed Protimax for swine – Ready to feed anitbodies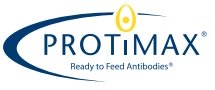 The science of egg-based antibody production shows passive immunity is transferred via the egg. While the egg is developing, the hen produces antibodies, functional proteins and other key nutritional components that transform into the ultimate animal supplement for swine.
Protimax consists of spray dried whole eggs containing egg-based antibodies derived from hens strategically vaccinated with specific antigens over time. Protimax may improve performance and maintain feed intake when specific challenges arise. Protimax is the "original egg antibody," which has been utilized worldwide for over 20 years. Protimax is unique, safe, specific and effective.
The Making of Protimax
Using patented protocols, hens are vaccinated against specific antigen groups that typically affect swine.
Protimax eggs are collected, broken, pasteurized and spray dried as whole eggs in a USDA Food Grade facility. Our patented manufacturing process maintains the quality and integrity of our antibodies.

Feeding Instructions
As standard practice, Protimax is designed to be be fed at 0.25-1.0 grams per head per day or at a rate of 2.2-8.8 lbs. per ton (1-4 kgs per metric ton) of the complete ration.
Protimax is generally fed when pigs are weaned (from day 1 to 14 post-weaning) and during transition periods.
Protimax may also be fed before pigs are transitioned to the nursery in various supplements such as milk replacers, yogurts and creep feeds.
Protimax contains functional proteins that are heat sensitive. Avoid temperatures above 160ºF (71ºC) in pelleting or other processes.

Protimax product packing
Product will be available to puchase in 1 kg bags.
The Protimax family of products for calvesManagement Recommendations
Protimax PW-402, Protimax EC-404 and Protimax SL-503 can be used as individual products or pre-blended as Protimax PWE or Protimax for Calves.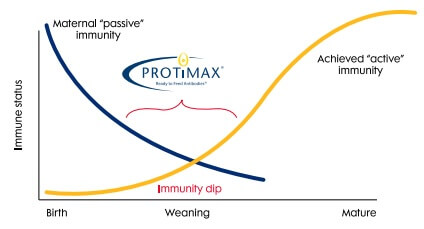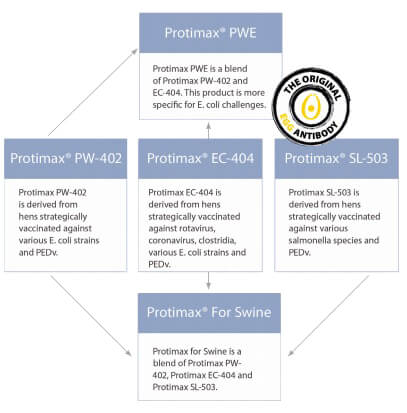 Protimax encompases the WHOLE egg
Intestinal pathogens such as rotavirus, E. coli, and salmonella are among the greatest challenges faced by young calves. Protimax eggs contain all passively transfered immune factors that the hen produces, including antibodies, functional proteins and other key nutritional components. Protimax is "food for the immune system," which coopertate with the entire digestive system, helping young calves copes with life cahllenges.
The safe and natural way. Protimax is pasteurized, natural dietary additive. It is not a drug or antibiotic and does not activate the animal's immune system. Research trials have shown enhanced nutritional performance, improved health from better nutritional performance, improved health from better nutrition and a better bottom line. Protimax brings peace of mind to both farmers and consumers.
To order contact our USA customer service desk at uscustomerservice@grober.com
Manufactured by